The Company
Intersal was founded by its late President Philip Masters, who personally conducted historical research on El Salvador and QAR at major American and European archives, as well as in many smaller libraries.  Intersal believes that the resulting body of evidence indicates that El Salvador's treasure lies within the permit area at Beaufort Inlet.
Following the Intersal's 1996 discovery at Beaufort Inlet of Queen Anne's Revenge (QAR) the 1718 flagship of Blackbeard the Pirate, Intersal in 1998 reached an agreement (updated in 2013) with the North Carolina Department of Cultural Resources (DCR). Intersal traded its rights to sell or retain any QAR artifacts, in return for a) provisions allowing Intersal's search for El Salvador to continue; b) rights to all commercial narrative accounts (film, video, etc.) of the QAR Project, including excavation, conservation and exhibition activities; and c) rights to produce replicas of QAR artifacts.

Philip Masters passed away in 2007. In 2008 David Reeder became President and CEO of Intersal. Phil Masters son John Masters continues as Intersal Chairman of the Board.

El
Salvador
research indicates that in the late spring of 1750, the Spanish merchant vessel El Salvador sailed from Cartagena, Colombia for Cadiz, Spain loaded with a significant registered consignment of gold and silver.  After replenishing in Havana, the richly laden El Salvador sailed for Cadiz with six other Spanish ships on August 7, 1750 (old calendar.)  Within a week, the seven vessels were caught in a hurricane that eventually drove the entire fleet onto the Outer Banks of North Carolina and Virginia.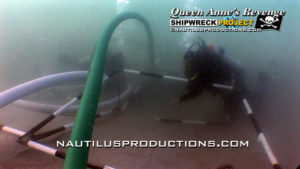 Archive documents confirm that essentially all the treasure aboard the other six Spanish ships was saved, but that El Salvador's consignment of gold and silver was never recovered.  Management believes that El Salvador was driven into the waves breaking over the sandbars then extending out from what is now Beaufort Inlet.  Pieces of the upper deck and rigging washed ashore, but the hull and its contents disappeared under the surf.  Contemporary reports suggest that the ship was quickly covered over with sand.  El Salvador vanished, and there is no definitive proof that any portion of her has ever surfaced.
Reports found in the Spanish archives indicate that El Salvador was a private merchantman owned by the Arizon family, carrying 240,000 pesos made up of four chests of gold coins and sixteen chests of silver coins of varying denominations, plus 50,000 pesos in other funds. Based on numerous accounts of other Spanish ships during the time period, Intersal believes that a significant amount of unregistered contraband and valuable personal and religious items may be found with the wreck site.  Intersal believes that El Salvador has the potential to be the richest colonial era shipwreck ever found in American waters.