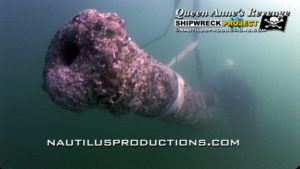 Intersal is a Florida based "S" corporation which in 1996 discovered Queen Anne's Revenge (QAR), flagship of Blackbeard the Pirate, which sank near Beaufort Inlet, NC in 1718. Since then Intersal has searched for El Salvador, a privately-owned Spanish merchant vessel which also sank near Beaufort Inlet, in 1750.
Based on the 1996 discovery of Blackbeard's QAR, Intersal holds media rights to all commercial narrative (pictures, video, etc.) of the QAR project; and right to make and market both exact replicas and collectable reproductions of QAR artifacts.
El Salvador's treasure consists of four chests of Gold coins and sixteen chests of Silver coins, plus considerable contraband believed to include Emeralds. Total value of the treasure is (very conservatively) estimated to be in excess of $150 million dollars.
As a consulting firm, Intersal benefits from over 20 years of experience in marine operations, government/private industry relations and permitting. Intersal personnel have extensive experience in these fields, as well as military/government/private industry partnerships and technology.
Strategy
To Recover and "Bring History to Life" for the Education and Benefit of All.
Personnel
David Reeder – President & CEO
John Masters – Chairman of the Board, Archaeological Technician

Kevin Meadows – Vice President & COO, Security

Glenn Haft – Treasurer & CFO
Allan Fields –Vice President, Board Member

Thomas Moran – V.P. of Marketing & New Investor Relations, Officer

Stephen Snow – Website & Creative Design
George 'Chip' Luck – Technology & Product Development

Nic Meadows – Lead Diver
Dave Shilling – Diver & Security
Scope of Operation
Marine Recovery
Consulting (Marine Operations, Shipwreck Location & Recovery,  Government/Military/Private Industry Partnerships & Technology)
QAR Replicas & Commercial Media
Financial Institutions
PNC
Bank of America

CPA
Glenn Haft (Haft, Steinlauf & Co)
Legal Representation
Link Harris Law Group PLLC
Ken McCotter, Attorney At Law
Hartman, Davis & Wright, LLP
Horan, Wallace & Higgins, LLP
Professional Consultants
David Weinstein (DNA Partners LLC) – Financial

Rob Reedy – Research, History, Archaeology
Jim Whitaker – Marine Operations