The Company
Intersal holds a permit issued by the North Carolina Department of Cultural Resources ("DCR") that grants the Company the exclusive right to search for El Salvador at Beaufort Inlet.  The permit allows the Company to retain 75% of all treasure and trade goods (cargo) it recovers from the El Salvador site.
Following the Company's 1996 discovery at Beaufort Inlet of Queen Anne's Revenge(QAR) the 1718 flagship of Blackbeard the Pirate, the Company in 1998 reached an agreement with DCR (revised in 2013) by which Intersal holds exclusive rights to all commercial narrative accounts (film, video, etc.) of the QAR Project, including excavation, conservation and exhibition activities. Intersal also holds the right to produce replicas of all QAR artifacts.
The Company was founded by its late President, Philip Masters, who personally conducted historical research on El Salvador and QAR at major American and European archives, as well as in many smaller libraries.  The Company believes that the resulting body of evidence indicates that El Salvador's treasure lies within the permit area at Beaufort Inlet.  In 2009 a state of the art Magnetometer and Side Scan survey was conducted in the permit area with industry leader Odyssey Marine Exploration. The results of that survey indicate numerous previously not investigated targets, which the Company is currently examining
Philip Masters passed away in 2007. His son John Masters continues as Intersal's Chairman of the Board of Directors. In 2008 David Reeder became President and CEO of Intersal.    
El
Salvador
The Company's research indicates that in the late spring of 1750, the Spanish merchant vessel El Salvador sailed from Cartagena, Colombia for Cadiz, Spain loaded with a significant registered consignment of gold and silver.  After replenishing in Havana, the richly laden El Salvador sailed for Cadiz with six other Spanish ships on August 7, 1750 (old calendar.)  Within a week, the seven vessels were caught in a hurricane that eventually drove the entire fleet onto the Outer Banks of North Carolina and Virginia.  
Archive documents confirm that essentially all the treasure aboard the other six Spanish ships was saved, but that El Salvador'sconsignment of gold and silver was never recovered.  Management believes that El Salvador was driven into the waves breaking over the sandbars then extending out from what is now Beaufort Inlet.  Pieces of the upper deck and rigging washed ashore, but the hull and its contents disappeared under the surf.  Contemporary reports suggest that the ship was quickly covered over with sand.  El Salvadorvanished, and there is no definitive proof that any portion of her has ever surfaced.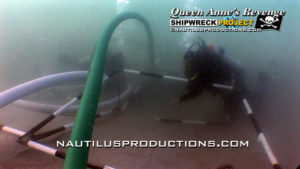 Reports found in the Spanish archives indicate that El Salvador was carrying 240,000pesos in registered Spanish Treasury funds, made up of four chests of gold coins and sixteen chests of silver coins of varying denominations, plus 50,000 pesos in commercial funds. Based on numerous accounts of other Spanish ships during the time period, Intersal believes that a significant amount of unregistered contraband and valuable personal and religious items may be found with the wreck site.  The Company believes that El Salvador has the potential to be the richest colonial era shipwreck ever found in American waters.
History of Intersal
In 1985 and 1986, Philip Masters, the Company's late founder and President, conducted research in the pertinent American archives indicating that El Salvador, a richly laden Spanish merchantman, had been lost near Beaufort Inlet, North Carolina in August 1750.  In late 1986 he conducted further research at the Archivo General de Indias in Seville, Spain.  Original documentation found there confirmed that El Salvador was indeed carrying an incredibly valuable consignment of gold and silver when she wrecked.  In late 1986, application was made to the North Carolina Department of Cultural Resources ("DCR") for a permit at Beaufort Inlet.  In January 1987, the permit was issued.   
At the same time, Mr. Masters began research to determine the validity of reports suggesting that another historically significant vessel, Blackbeard's 1718 flagship, Queen Anne's Revenge (QAR,) had also been lost within the same area.   Following confirmation of that fact, in late 1987, application was made for a state permit covering QAR, which was granted in January 1988.  A year thereafter, a second Blackbeard vessel, the pirate sloop Adventure, was added to the permit.
Initial diving reconnaissance in 1987 established that conditions in the prime target area, while not ideal, were adequate for search and salvage operations.  Mr. Masters and his long-time friend Dr. Allan Fields then enlisted the aid of attorney Louis J. Pleeter, accountant Glenn R Haft, and others.  In early 1988, Intersal Inc. was incorporated in Florida with an expressed goal of helping to increase knowledge and awareness of America's rich maritime heritage by researching, locating and excavating valuable historic shipwrecks.  Presentations were made to prospective investors, and funds were raised to allow for commencement of field operations in the fall of 1988.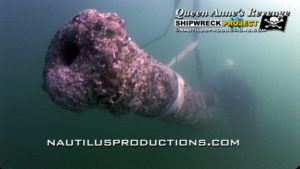 For approximately one month in 1988, and again in 1989, the Company conducted preliminary magnetometer survey operations in the shallower portions of the target area.  Many groups of anomalies (possible shipwreck sites) were electronically pinpointed for follow-up sand removal and diving investigation.  In 1990, Pelican III, a forty-two foot steel-hulled crew boat powered by two large diesel engines, was purchased, refitted, and equipped with twin twenty-six inch diameter custom-built prop-wash diverters.  
In 1991, a dispute arose as to ownership of the state permits, requiring that fund-raising and field operations be suspended until the Company's right to the permits could be re-established.  In 1995, the DCR granted Intersal clear title to the permits. Since then, DCR has approved Intersal's yearly applications for renewal of its El Salvador permit.
The Research Effort 
In the summer of 1984, Mr. Masters completed course training in shipwreck research and archaeological diving given jointly by Ray McAllister, then Professor of Ocean Engineering at Florida Atlantic University, and the noted, now deceased, nautical archaeologist Peter Throckmorton.
In the summers of 1985 and 1986, Mr. Masters worked as project historian and diver on the excavation of HMS Feversham, a 1711 Royal Navy frigate lost off Cape Breton, Nova Scotia.  In 1989, Mr. Masters participated in the successful marketing of the Feversham coins through an auction at Christie's in New York.  
By the fall of 1985, Mr. Masters decided to seek a suitable shipwreck to research, survey for, locate, excavate and eventually market.  Well aware of the political and legal problems usually encountered by salvors in dealing with foreign governments, he was determined to select a vessel that had wrecked in the waters of a U.S. state which had a fair and equitable permitting program in place.  Mr. Masters also knew that, in order to attract risk capital, it had to be a ship lost with a cargo valuable enough to produce a substantial return on investment.           
Mr. Masters started out by searching through two well-known "shipwreck" books, The Treasure Diver's Guide by John S. Potter Jr. andShipwrecks of the Western Hemisphere by Robert Marx.  By early 1986, Mr. Masters' interest had narrowed down to the 1750 Spanish treasure fleet.  According to the two books, the fleet's seven ships had been caught in a hurricane while sailing from Havana to Spain, and had wrecked on the Outer Banks of North Carolina and Virginia.  According to the Potter book, one named El Salvador had been lost while trying to enter Beaufort Inlet with a cargo of at least 200,000 pesos in Spanish silver.
In the spring of 1986, Mr. Masters researched the 1750 fleet at the University of Florida libraries in Gainesville, the North Carolina State Archives in Raleigh, the University of North Carolina libraries in Chapel Hill, the Library of Congress in Washington D.C., and the 42nd Street New York Public Library.  By early summer, his interest had narrowed to the two ships in the fleet that had apparently not been re-floated or salvaged by the locals: Nuestra Senora de La Soledad and El Salvador.
In July 1986, Mr. Masters spoke of his interest in the 1750 fleet to his mentor at the University of Florida, historical archivist Bruce Chappell.  Mr. Chappell teaches Spanish paleography – the art of reading archive documents – to graduate students preparing to do research at the Archivo General de Indias ("AGI") in Seville, Spain.  Mr. Chappell introduced Mr. Masters to a student who was about to leave for Seville, and arrangements were made for a part-time effort to research the losses of La Soledadand El Salvador.  To pay for the AGI research, Mr. Masters enlisted the aid of his long-time friend, Dr. Allan Fields, a surgeon in Hollywood, Florida.  The researcher was instructed to concentrate on: 1) the breakdown of cargos aboard both vessels; 2) the location of each wreck; and 3) evidence of any immediate salvage efforts. 
In October 1986, Mr. Masters received a report from Seville indicating that La Soledad's crew had recovered virtually all of her treasure, but that nothing had been recovered from El Salvador.  Two weeks later, the Company's researcher reported finding a document saying that El Salvador's consignment of crown treasure consisted of sixteen chests of silver and four chests of gold.  Two other AGI documents said she was stranded and torn apart on an offshore sandbar fifteen leagues (forty-five miles) down the coast from Ocracoke Inlet.  As a follow-up, the researcher also visited archives in Simancas, Spain, uncovering some of the diplomatic correspondence that flowed between Madrid and London following the 1750 fleet disaster.    
In November 1986, Mr. Masters met with Richard Lawrence, head of the Underwater Archaeology Unit of the Division of Archives and History of the North Carolina Department of Cultural Resources (DCR.)  At that initial meeting, Mr. Lawrence told Mr. Masters that a shipwreck of great historical significance, Blackbeard's 1718 flagship, Queen Anne's Revenge (QAR)may have also been lost at Beaufort Inlet. 
In January 1987, the DCR issued a permit to search for El Salvador along six miles of coastline, with Beaufort Inlet at the center.  At the same time, Mr. Masters had begun researching the loss of QAR.  He essentially re-visited the same libraries and archives visited in the original 1750 fleet inquiry.  In the process, Mr. Masters also double-checked all his previous research on El Salvador, and began acquiring a collection of copies of early charts of the Beaufort Inlet-Cape Lookout area.  During 1987, he also visited the state archives and numerous smaller repositories in the Carolinas and Virginia.  
In the late spring of 1987, in the Rare Book Room at the New York Public Library, Mr. Masters located the deposition of pirate David Harriott in the appendix of a book published in London in 1719.  Harriott gave an eyewitness account of the loss of QAR and Adventurethat confirmed that the two pirate ships had been lost "off of the Outer Bar" at Beaufort Inlet. 
From January 2nd to April 18th, 1989, Mr. Masters studied at the University of Florida in Gainesville. He took a course in intensive Spanish, and on nights and weekends his friend Professor Bruce Chappell trained him in Spanish paleography.  On April 20th, Mr. Masters flew to Europe, where he researched the 1750 fleet and El Salvador at the AGI in Seville for four weeks.  From there, Mr. Masters flew to London, where he worked for another three weeks on the losses of QAR, Adventure, and El Salvador, at the British Public Record Office (PRO) and other major repositories.  
Mr. Masters returned from Europe in early June 1989 satisfied that the bulk of the Company's research effort had been completed.  Since then, he has visited numerous smaller repositories in these ongoing investigations.
In 1999, Mr. Masters returned to Europe and visited the AGI in Seville, the AHP in Cadiz, and the PRO, just outside London.  This follow-up effort confirmed all previous conclusions.  
In 2001, Intersal Director of Operations John Masters traveled to Havana, Cuba to conduct research connected with QAR; and to arrange for additional research concerning El Salvador, to be performed in the Cuban archives. These efforts were suspended after 9/11/2001. 
Queen Anne's Revenge Discovery
In 1996, the Company contracted for the services of Mike Daniel, an experienced salvor from Jupiter, Florida, as director of operations and captain of the company's salvage vessel, Pelican III.  Magnetometer survey and follow-up diving operations began at Beaufort Inlet on November 11, 1996.  Ten days later, Mr. Daniel and the Intersal crew discovered the QAR site just over a mile off Bogue Banks, at a depth of twenty-two feet.  The site lies almost due south of Ft. Macon, well within Intersal's permit area.  The identity of the site was confirmed by the number and size of the cannon and anchors exposed on the sand bottom, and by examination and dating of the various artifacts recovered.  The initial collection included a bronze bell inscribed with the date of 1705, the brass barrel of a blunderbuss (circa 1690-1710), a lead cannon apron, a lead sounding weight, and two iron cannonballs.   Subsequent excavations have resulted in the recovery of thousands of artifacts, all supporting the conclusion that the wreck is QAR.  They include: at least 24 iron cannon (one dated 1713) and some cannonballs; a small "signal" cannon (very likely fired at some point by Blackbeard himself); a coin weight with the likeness of Queen Anne on it; numerous pewter platters and plates, and one pewter medical syringe (which still contained traces of Mercury); some of the brass parts and accessories of a then-sophisticated surveying instrument; three intact onion-shaped wine bottles; tens of thousands lead musket-balls and mini-balls; a number of ceramic shards; hundreds of  so-far unidentified conglomerations of material known as "encrusted objects" ("EOs") or "concretions"; several surviving sections of the ship's hull including its massive sternpost; trade beads, and a small quantity of gold fragments.   
The Company's research indicates that when QAR and Adventure became stranded in June 1718, the pirates had sufficient opportunity to unload most, if not all, of the valuables aboard before abandoning the two vessels.  The Company therefore concluded that there was little, if any, possibility of making sufficient profit to justify the expenditure – estimated at over five million dollars – that would be required to fully excavate and conserve all the artifacts recovered from the QAR site.  After discussions with the DCR, the Company agreed to relinquish its rights to any QAR artifacts, thus absolving the Company of the financial responsibility associated with the discovery. 
On March 3, 1997 the Company, Maritime Research Institute (a non-profit set up by QAR co-discoverer Mike Daniel), and the DCR held a joint news conference in Raleigh at which then Governor Jim Hunt made the announcement of QAR's discovery.  The response was remarkable. Company representatives were interviewed by electronic and print media from across America, and from Canada, Great Britain, France, Germany, Austria, Spain, South America and Australia.  Pieces were seen and/or heard on Good Morning America, Today, CNN, Discovery, NPR, the BBC and many others.  Stories were featured in People Magazine and in hundreds of newspapers across America, most prompted by articles appearing on the AP wire, in the New York Times, and in USA Today.  There was considerable coverage in Great Britain, prompted by an article in the London Times. 
A listing of articles related to the Queen Anne's Revenge and the Company is presented in Exhibit B.             
In August 1998, 20 months after the initial discovery of QAR, the Company signed a Memorandum of Agreement ("MOA") with the DCR. This agreement was revised in 2013. Intersal retains the rights to all commercial narrative accounts of the QAR Project, and the right to make both limited edition and collectable replicas of QAR Artifacts:
The Electronic Survey System, 1998-2005
The historical record indicates that El Salvador was swallowed up within the deep and shifting sands which abound off the Outer Banks.  The best tool available to locate a site expected to be buried under sand is the magnetometer, or "mag," which registers the iron components – such as cannon, anchors, weapons, and ship's fittings – present in every shipwreck site.  The mag head, or "fish," is towed behind the survey vessel at the end of a cable.  A laptop computer in the vessel's cabin records any distortions – known as anomalies – in the earth's magnetic field in the vicinity of the mag head, indicating the probable presence of ferrous metals (iron objects). 
The Company determined that the most reliable and efficient way to locate El Salvadoris to start by conducting a precise, all-encompassing magnetometer survey of the target area.  To that end,in 1998, the Company bought a state-of-the-art magnetometer built by Geometrics Inc., of San Jose, CA; and also purchased and interfaced a sophisticated computer acquisition and survey analysis system.  This system was installed on Anomaly, a twenty-six foot Fiberglass-hulled Bertram. The resulting magnetometer contour charts were designed to locate and display the relative size of every probable shipwreck site in the area surveyed.  
The system was so effective that in the fall of 2000 the US Army Corps of Engineers requested that Intersal conduct the required magnetometer survey of their proposed new dredging dump zone near Beaufort Inlet.
Examples of 1998-2005 survey charts are presented in Exhibit C.
Search and Recovery 1998-2005
Utilizing the Company's magnetometer survey system, remote sensing operations began in early November 1998.  Follow-up diving operations to investigate the most likely targets indicated on the Company's magnetometer survey charts commenced in July 1999.
As each section of the target area was surveyed by Anomaly and her electronics, the magnetic contour charts of that section were studied and indicated anomalies evaluated; their exact coordinates were recorded, and – much like a hurricane – given a working code name.    
Anomaly re-located potential sites by dropping a lead weight attached to a floating buoy directly on the coordinates as indicated by the DGPS. A diver carrying the underwater hand-held magnetometer swept the bottom in the immediate area, and the lead weight is moved to center of the anomaly.  If debris were visually observed and identified as not being eighteenth century, then the site was abandoned.  If nothing was visually observed, Pelican III was anchored over the site and positioned so that her prop-wash diverters would "blow a hole" in the sand under the lead weight.      
The state permits allow the recovery of sample artifacts to determine each site's age and, if possible, its identity.  As each anomaly is investigated, the sample artifacts are studied to determine their dating. If they are other than eighteenth century, they are left in place.  The coordinates and description of the artifacts viewed on all confirmed nineteenth and twentieth century sites encountered are noted, but the Company does not waste time and effort on them.  The Company intends to focus its attention on the eighteenth century sites encountered, and ignore all others. 
As of 2005, more than eighty percent of the target area had been electronically surveyed.  The resultant magnetometer contour charts pinpointed more than seventy-five groups of anomalies, more than sixty of which have been eliminated by Company divers as being either nineteenth or twentieth century.
On November 16, 1999, Company divers encountered major components of an eighteenth century site – code-named "Maria" – in the target area.  For five weeks following the discovery, the Company studied the site in cooperation with scientists from the state Underwater Archaeology Branch ("UAB.")  No cannon or ballast stones, which would suggest the heart of a wreck site, were seen.  Two large anchors (one eleven feet long, with most of its wooden stock intact) and one smaller anchor (about six feet long) were observed, along with a variety of encrusted objects, some of which appeared to be rudder fittings.  Artifacts recovered on the Maria site before operations were suspended on December 21st include various parts of ship's rigging, plus an iron cannonball, a pewter spoon, and part of a brass buckle.
Maria is within a half mile of the Queen Anne's Revenge (QAR) site, forcing the Company to initially consider the possibility that Maria was a major component – perhaps part of the stern – of QAR.  However, the artifacts found seem to indicate that Maria is part of El Salvador or some other eighteenth century vessel.  In any case, there is little doubt that Maria represents a portion of a large ship lost between 1650 and 1800.  
Intense magnetometer surveys of Maria and surrounding area were the first order of business in 2000.  The resultant charts indicated that there were no worthwhile groups of anomalies within five hundred feet of Maria.  The Company decided to conduct an intense survey of Maria with a gradiometer (a very sensitive, dual sensor magnetometer,) in an attempt to help us determine the site's size and shape.  The hope was that this would allow us to pinpoint the center of the site, or to follow a trail leading to a ballast pile.
Company vessels and divers returned to the Maria site on March 24, 2000.  Two adjacent fifty by one hundred and fifty-foot grids (marked by tape measures tied to ropes stretched about a foot off the bottom between 2" PVC pipes anchored vertically into the sand at twenty-five foot intervals) were surveyed in and established on the bottom.  Vessel moorings were posted just outside the corners of the overall one hundred by one hundred and fifty-foot grid by screwing four large screw-eyes deeply into the bottom.  From there, a strong rope lead to a buoy on the surface and another rope lead to a grid corner on the bottom.  It was necessary to position the dive vessel exactly over the area to be surveyed each day, because the gradiometer (on a sled and trailing its umbilical cable) had to be manhandled around on the bottom by divers outfitted with wireless com gear.  It took three months to manually record the gradiometer reading and exact position every two and one half feet throughout a fifty-foot by one hundred and forty-foot section of the grid.  While the survey results were remarkable for their sensitivity and accuracy, they were disappointing in that they indicated Maria contained little else other than the three anchors and other encrusted objects we had already seen.
The next step was to check the nearest anomalies northward (shoreward) of Maria.  On the morning of July 8, 2000, at an anomaly code-named Kramer, about one thousand feet NNW of Maria, the team pinpointed, excavated, and identified a roughly six foot-long eighteenth century anchor with a wooden stock.  It was noted that the anchor's shaft pointed almost due east toward our next target, an anomaly code-named 007, which was about one thousand feet NNE of Maria.  That afternoon the 007 site was examined; Intersal's Director of Operations and lead diver John Masters surfaced to report "there are four cannon and some ballast stone down there."
From then until operations were suspended at the end of the year, the Company concentrated on first studying the 007 site and then picking up what turned out to be a long trail to the NNE.  Six cannon and a few dozen ballast stone were located within fifty feet of each other at 007, with a seventh cannon found at Nathan, about one hundred and fifty feet NNE of 007.  By 2002, all seven cannon had been recovered and brought to the state laboratory facility at Fort Fisher.  After careful cleaning over the following months, none of the seven cannon were seen to be dated.  One of the cannon was put on public display in the main entrance hall of the North Carolina Maritime Museum in Beaufort.  
While none of the seven recovered cannon were marked with a date of manufacture, a major effort was made to narrow down the range of possible dates.  In February 2003, Intersal's archaeological consultant took pictures, sketches, and dimensions of the 007/Nathan cannon collection to a meeting with the arms experts at the Royal Armories, Tower of London, in England.  One of the seven cannon, dubbed the "howitzer," was of such a unique configuration (unusually short and fat) that the experts were able to state that its date of manufacture could have been no earlier than 1725.  That rules out Blackbeard's Adventure (lost in 1718) as the source of the cannon, leaving El Salvador as the most logical candidate.
Between 2001 and 2005, Intersal concentrated on fine-tuning its magnetometer survey system and "re-magged" the prime target area in and around the Maria/007 Axis with greater intensity. Numerous anomalies were pin-pointed, then re-located and examined.
A trail of eighteenth century debris appears to start about a mile offshore in 22 feet of water at Maria, and then runs NNE along the Maria/007 axis, heading toward shore. Further shoreward along the trail, Company divers located five additional wooden stock anchors, a wooden and leather bilge pump piston with connecting rod, an iron cooking pot, and dozens of other smaller eighteenth century artifacts and encrusted objects.  By the end of 2004, Company vessels and divers had checked out more than ninety percent of the trail as they followed a veritable graveyard of thousands of eighteenth century artifacts shoreward.  In 2004, the team was working in less than ten feet of water, within three hundred feet of the beach.
2005-2008
In early 2005 Intersal founder and president Philip Masters was diagnosed with Melanoma. Search operations were suspended, and Intersal concentrated on maintaining its El Salvador permit through continued work with the QAR Project. After more than two years of chemotherapy and other treatment, Philip Masters passed away in August of 2007.
In 2008 Intersal named David Reeder to be the new President and CEO of Intersal. John Masters continues as Director of Operations and is now principal shareholder of Intersal.
2009 Survey with Odyssey Marine Exploration (OMEX)
In 2008 Intersal and OMEX signed a Partnership Agreement, terms of which gave OMEX a percentage of any coins recovered and sold. Under the Partnership Agreement Intersal and OMEX conducted State-of-the-art Magnetometer and Side-scan survey operations in 2009. 
Details of the Survey system and results form part of the Intersal 2009 Yearly Report to DCR (Attachment 1).
Due to independent business concerns, Intersal and OMEX signed a Separation Agreement in March of 2010, to void the previous agreement and terminate the Partnership. By the terms of the Separation Agreement, OMEX will receive a conditional 3.5% royalty from Intersal's sale of any coins recovered from the Survey Area. All items required from OMEX under the terms of the Separation Agreement have been received, and the Intersal/OMEX partnership has officially been terminated.
Since 1986, research on QAR, Adventure, and El Salvador has been conducted in the following principal libraries and archives:
Archivo General de Indias (AGI) (Seville, Spain)
Archivo General de Simancas (AGS)(Simancas, Spain)
Archivo Historical de Provincial (AHP) (Cadiz, Spain)
Bibliotheca Havana (Havana, Cuba) 
Bermuda National Archives (Hamilton, Bermuda)
Bristol Public Library (Bristol, England)
British Museum and Library (London, England)
British National Maritime Museum Library (Greenwich, England)
Carteret County Public Library (Beaufort, NC)
Charleston Historical Society Library (Charleston, SC)
Colonial Williamsburg Foundation Library (Williamsburg, VA)
Craven County Public Library (New Bern, NC)
Duke University Library (Durham, NC)
Hispanic Society of America (New York City)
Library of Congress (Washington, DC)
National Maritime Museum Library (Newport News, VA)
New Hanover County Public Library (Wilmington, NC)
New York Historical Society (New York City)
New York Public Library (42nd Street and Annexes, New York City)
North Carolina State Library and Archives (Raleigh, NC)
North Carolina Underwater Archaeology Unit files (Fort Fisher, NC)
Public Record Office of Great Britain (PRO) (Kew and London, England)
South Carolina State Archives (Columbia, SC)
U.S. Army Corps of Engineers files (Wilmington, NC)
U.S. National Archives Map Division (Alexandria, VA)
University of Florida Libraries (Gainesville, FL)
University of North Carolina Libraries (Chapel Hill, NC)
Virginia State Library and Archives (Richmond, VA)
Yale University Library (New Haven, CT)
Additional research was conducted in dozens of smaller libraries along the U.S. East Coast.